P2A VALIANT 16" 9mm 1/10 Pistol Caliber Melonite M-LOK Rifle
Special Price
$1,109.99
$1,279.99
OPTION DETAILS
MUZZLE DEVICE: Standard A2 Flash Hider or Competition Muzzle Brake. Muzzle Brakes are for recoil reduction. The baffles and ports are milled larger to drive pressure up and to keep the muzzle down more effectively.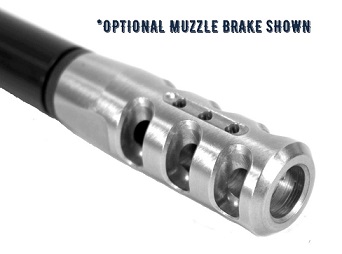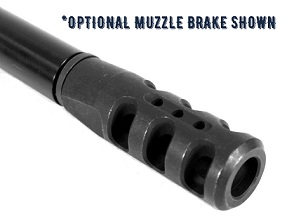 SIDE FOLDING: No or Yes. The Sylvan Arms Folding Stock Adapter allows you to fold your stock and significantly reduce the length of your rifle for easy stow and travel.
TRIGGER: Standard Milspec or Rise Armament RAVE 140. Milspec is a 5-6lb pound trigger. Rise has a single stage, crisp clean break, 3-3.5lb trigger pull. 
**LIMITED TIME OFFER** FREE UPGRADE to a VG6 Gamma MUZZLE BRAKE ($85 Value) with this purchase** Just choose the Standard A2 Flash hider and we will automatically upgrade it to the Gamma Muzzle Brake. 
This item is considered a Firearm. All Firearms must be shipped to a FFL holder. Click here to learn how to purchase this item. 
UPPER RECEIVER: Gibbz Arms G9 Non Reciprocating Side Charging Billet Aluminum Receiver with Gen 2 Handle, Type III Hardcoat Anodized Black
BARREL: 16 inch, 9mm Caliber, 4150 Chrome Moly Vanadium Steel, 1:10 Twist, Nitride/Melonite Treated - made for us by Tactical Kinetics
HANDGUARD: 13 inch M-LOK Free Floated, Machined out of 6061 T6 Aluminum – made by Bowden Tactical
GAS SYSTEM: Blowback System 
GAS BLOCK: Blowback System - No Gas Block Needed
MUZZLE DEVICE: Standard 1/2-28 (Enlarged to 9mm) A2 Flash Hider and Crush Washer
LOWER RECEIVER: Milspec AR-15/AR-9, MACHINED out of 7075-T6 Billet Aluminum, Type III Hardcoat Anodized Black, Glock Style - Accepts Glock Mags
BOLT CARRIER GROUP: 9mm Caliber, M16 Profile, MP Tested, Nitride Treated, 8620 Bolt/Carrier
CHARGING HANDLE: Integrated Side Charging Handle - Made of Billet Aluminum
LOWER PARTS: Milspec Polished Trigger & Hammer, Standard Grip & Milspec Lower Parts
STOCK: SOPMOD Stock with 6 posttion milspec buffer tube, 8oz pistol caliber buffer, buffer spring, latch plate and castle nut
MAGAZINE: (1) PMAG or Similar Glock Compatible Magazine
100% MADE IN THE USA
LIFETIME WARRANTY AND SUPPORT*
The Valiant Line replaces the standard milspec upper receiver with our premium Non Reciprocating Side Charging Upper Receiver. We partnered with Gibbz Arms to create the Valiant which gives the user maximum top rail access while making it easier to charge the weapon under duress. The premium Valiant also makes it faster to load or reload the weapon as the user no longer needs to take his/her finger off the trigger and refocus while charging the weapon. When seconds count, you can count on our Valiant Line.
*Click here to learn more about our warranty. 
More Information

| | |
| --- | --- |
| SKU | P2AVT-9MMBW13N16-1.10-TK |
| Pistol Caliber | 9mm |
| Manufacturer | Pro2A Tactical |