22 inch Side Charging 224 Valkyrie M-LOK Stainless Complete Upper Kit
Special Price
$489.99
Regular Price
$629.99
*Complete Upper kit includes our side charging barreled upper assembly with side charging bolt carrier group & handle & plug, lower parts kit and stock kit*
Pro2A Tactical believes in total transparency and honesty. We will always specify the manufacturer of the major components therefore you know exactly what you are getting. Specs:
Bear Creek Arsenal SIde Charging Upper Receiver - comes with BCA side charging handle, screw rear plug and BCA side charging BCG.
BCA 22 inch 224 Valkyrie Rifle Length 1/7 Twist 416R Stainless Steel Barrel
Low profile Nitride STEEL gas block
Stainless Steel Rifle length gas tube
Guntec USA 15 inch M-LOK Slim Profile Free Float Rail
DPMS A2 Flash Hider and crush washer
Anderson Mfg AR-15 Lower Parts Kit
Minimalist Stock Kit
Optional

: Upgrade to an Adjustable Gas Block 
Optional

: Upgrade to a Black or Stainless Competition Muzzle Brake 
Flattens The Competition At 1,000 Yards
The MSR 15 has never offered practical 1,000-yard performance. That's all changed thanks to the heavier bullets and extremely high ballistic coefficients of new 224 Valkyrie. Loaded with the 90-grain Gold Medal Sierra MatchKing, the cartridge offers as much as 127.88 inches less drop and 68.76 inches less wind drift at 1,000 yards when compared to existing MSR 15 cartridges.
More Punch. Less Kick.
New 224 Valkyrie provides comparable ballistics as larger counterparts like 6.5 Creedmoor but with as little as half the felt recoil.
All parts are MADE IN THE USA.
The Bear Creek Arsenal Side Charging Upper Receiver comes complete with the side charging handle and side charging BCG. For those who prefer an AK47 style charging pattern. Compatible with all standard AR-15 lower receivers. Just pin it to your lower and you are ready to rock and roll.
BCA makes very high quality barrels. Made out of premium 416R Stainless Steel and bead blasted for enchanced corrosion protection and accuracy.
The Guntec rail is very high quality and comparable to many other higher end rails that cost 2x or 3x as much. Barrel nut and screws are hardened steel and the mounting system is rock solid.
Gas Block diameter is 0.750 and is made out of steel and melonited (not aluminum).
*Optional* - Upgrade to a USA made Adjustable Gas Block. Gas Block is melonited and made of solid steel. 
*Optional* - Upgrade to a USA made Black or Stainless Competition Muzzle Brake. This is an enhanced version of the popular style muzzle brakes. The baffles and ports are milled larger to drive pressure up and to keep the muzzle down more effectively.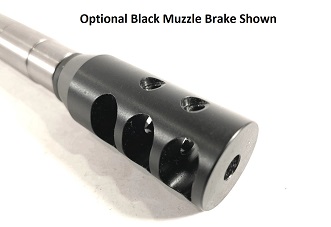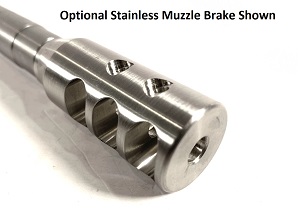 More Information

| | |
| --- | --- |
| SKU | P2ASC224VGTM15RIF22SS-BCA-Kit |